In order to expand the kinds of shots I like to get I bought the new Movi Pro for the Red which would work really well for some of the fashion films I have in mind.
First things first, this thing is heavy with the Red and Cne Primes on it.
You cant hold it for longer than a minute or so before your arms and shoulders get really tired, I should have listened to those who'd used it before so I had to get a support system.
EasyRig was mainly for hand held configurations and after mulling over the Tilta Armour Man I went with the ReadyRig.
It uses high tension bungee cords and carbon fibre poles to put the weight on your hips and take the bounce out of your walk.
Great setup!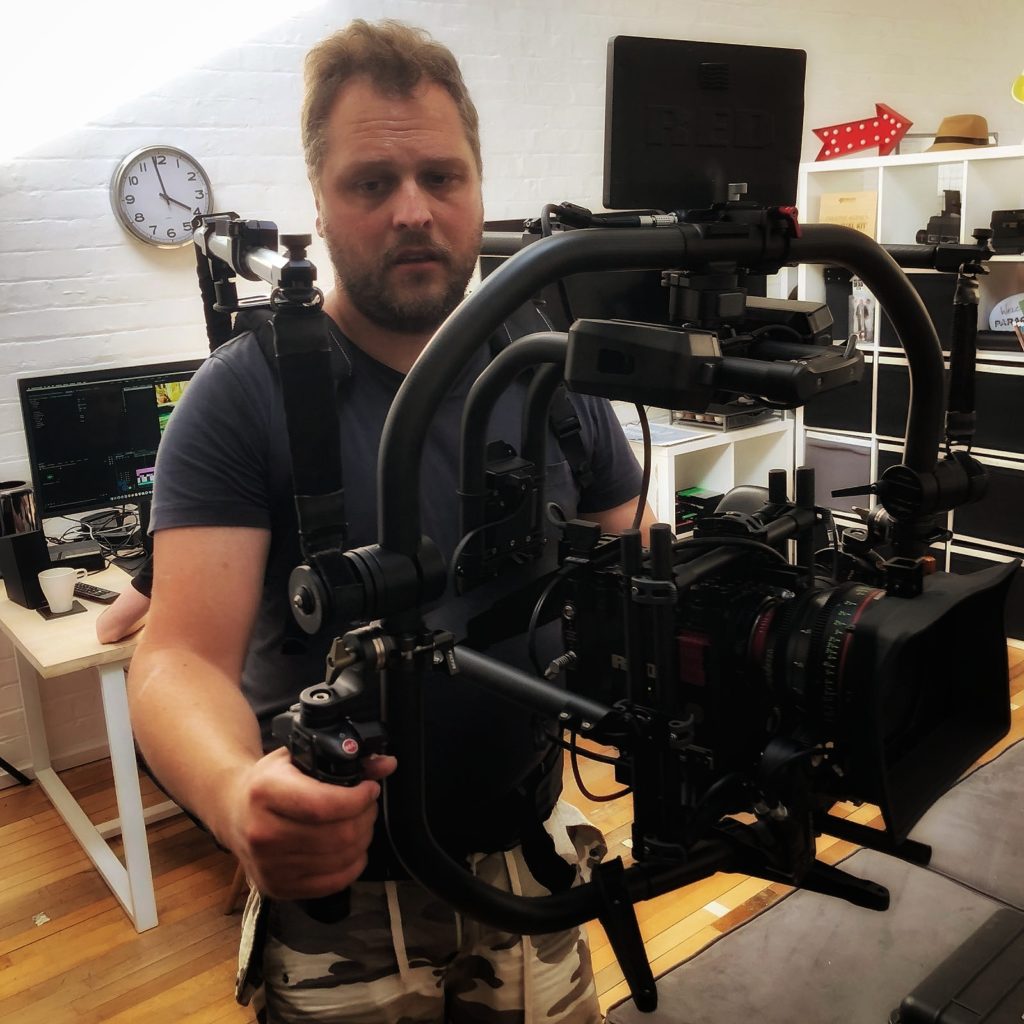 As well as the ReadyRig I also got the Tilta Nucleus M Electronic follow focus system this comes with two handles to fix to a gimbal in order to let you handle iris and focus whilst steering the gimbal.
A NEW SPEC

For sometime I was planning on a spec piece that would let me use the gimbal and get used to its flow.
I had an idea for sometime now focusing on a great location; Bowland Knotts Yorkshire. I go walking there regularly and find it really picturesque and thought a woman following a trail of red wool would be quite an interesting concept.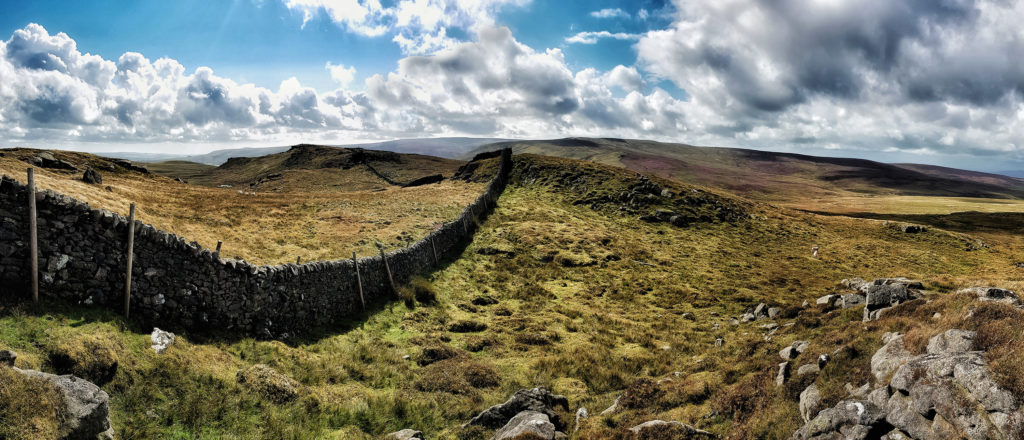 The idea was delayed until I got the gimbal system and was originally meant to be an autumn shoot but I was getting crazy bored so decided to do it in the summer instead. The concept would flow around knitwear which is the kind of piece you would see for Mulberry or a cashmere outlet.
FASHION CHOICES

I had worked alongside a fashion stylist before, Kerry Saxon http://kerrysaxonstylist.com/ with a friend on a fashion piece and met up to see if she was interested in working on some spec pieces.
Kerry was very enthused about getting involved in something that was more than just a standard look book of fashion pieces and concentrated on one thing only.
The concept was going to be an ensemble of knitwear pieces but then realised it would be great to get a single piece knitwear dress or oversized jumped with the model bear legged running through the grass and moorlands as she chases this wool to an unknown location.
I scouted out the location again with my composer friend Andy to see what we could do about facilities; the nearby village of Slaidburn had a tea shop there – the River Bank Tea Rooms (very good cake). The owner graciously let us use the available upstairs as long as we bought some breakfast.
Kerry managed to source a fashion makeup artist; Laila Laher from Huddersfield then next big job was getting ourselves a model which I thought would be easy….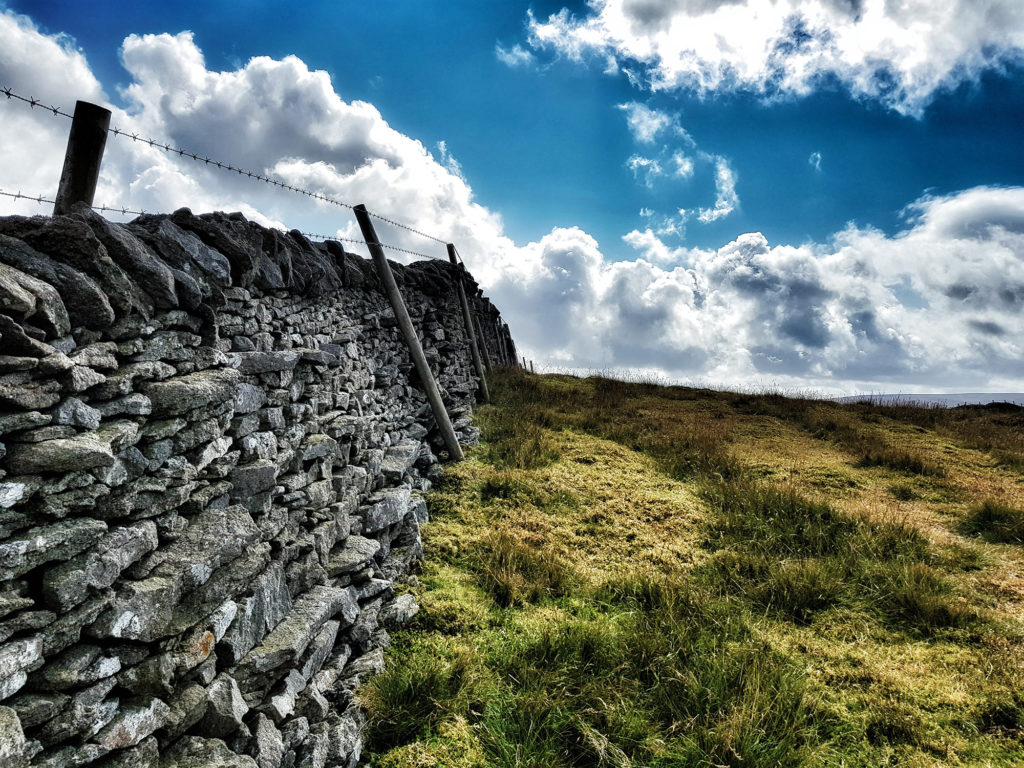 MODEL-LESS

I contacted the local fashion model agencies in Manchester for some of their models.
Boss and Nemesis were very enthusiastic, J'dore showed little interest. I was put in touch with one model who rejected the project based on the fact she didn't want video.
Generally in the modelling field all models want video some are desperate for it so to have models say 'No thankyou!', I found really baffling.
I managed to get some packaged of available models from Boss and Nemesis but none where what I was looking for; a really dynamic standout young blonde with fantastic green eyes.
I turned to instagram instead and after a few dead ends I found Elena, a Lithuanian model living in Liverpool, we met and she expressed interest in the project.
HEAT WAVE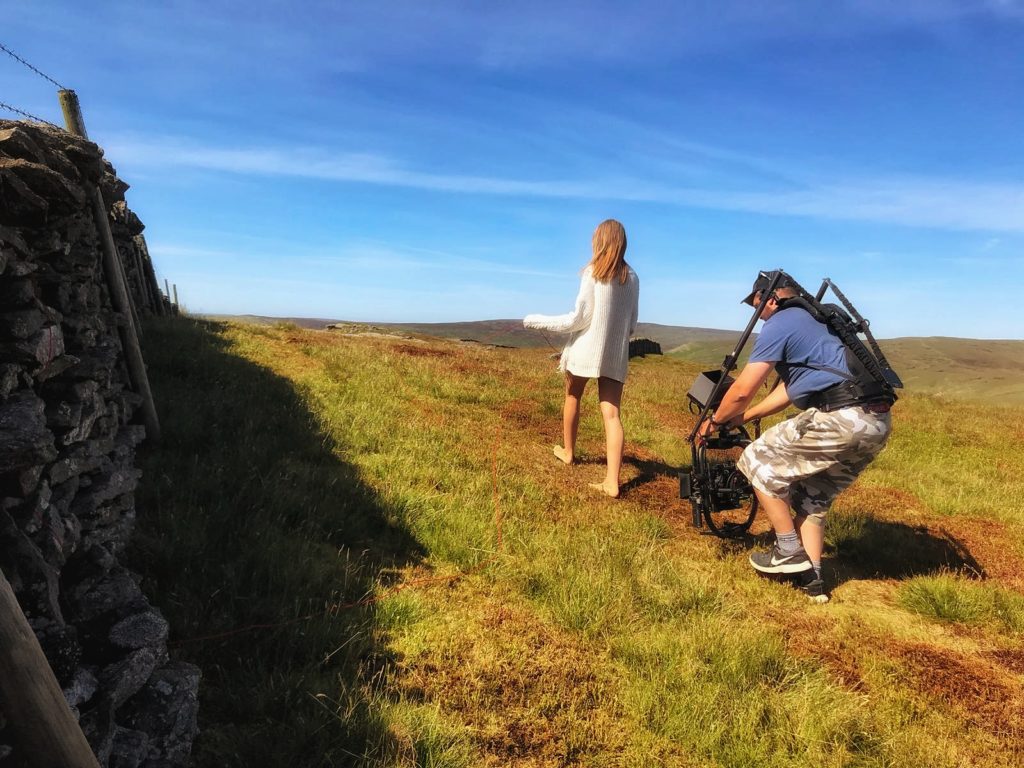 I normally expected the British summer to be understated and so planned for an overcast day to control the lighting better but after a month long heatwave we had to just make the best of it.
The time of year also meant cable knitwear pieces were hard to get a hold of but Kerry came through.
On the day I picked up Elena from Liverpool and we drove to Slaidburn for 8.30am where we found the team waiting and got costume and makeup prepped in the tea rooms (seriously, that cake is something else.)
We were missing two team members though.
Flick and Amelia who were on the Bentley shoot offered to get involved again and had decided to meet us at the location itself and not the production base but we found them and cracked on with the filming.
THAT FIRST HOUR….

The worst part of filming anything is the first hour…, it take time to get into the rhythm of shooting something and in the that first hour all your plans go on holiday to Cuba and leave you stood there clueless.
We began with the gimbal, the ready rig was great until I began to realise it hadn't be set right for my height and quickly found I was getting lower back spasms.
On hand as A.C. I had Ben Herbert from Lightspeed Films who was keen to try out a fully rigged up Red shoot. Ben was great on the day and made sure the lens changes where fast and unclipping the gimbal was quick.
Felicity (Flick) was also on hand as production manager and helped with taking the red weight in between takes with Amelia helping move equipment and place the red wool in situ.
3 Axis of Difficulty

Once the red was rolling on the gimbal I discovered two things, first you have to have faith in the ready rig what seemed like a bouncy shot was actually smooth as butter and secondly it was very hard to operate the rig and keep focus/iris control.
I'm not good at multi tasking!
It was definitely having an impact on my ability to see the shoot as a whole so I did make the decision any future hi end shoots would be DOP'd leaving me free to handle the shoot instead of focusing on making sure the gimbal and focus were spot on.
It at least calls for a dedicated focus puller to one side to take that worry off your hands.
Still, we managed to get the require shots.
SERIOUSLY BRIGHT SUNSHINE!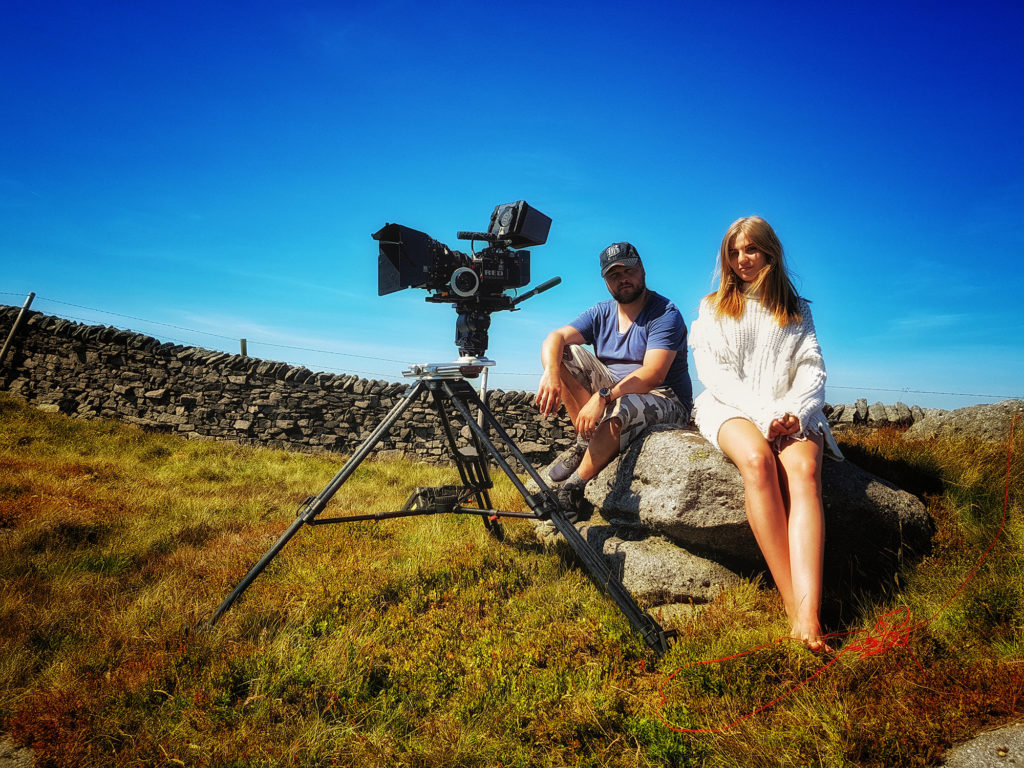 This was meant to be an overcast day but not in the UK!!!!
I was facing issues with harsh shadows on Elena's face from her brow, under her eyes and nose not only was the sun beating down but it wasn't remotely diffused.
As such we had to have her with her in the shade wherever possible which meant an over exposed background, it was a tricky juggle and we also used a polyboard and black flag to control the lighting further.
WOOLY BOOLY & FOOTY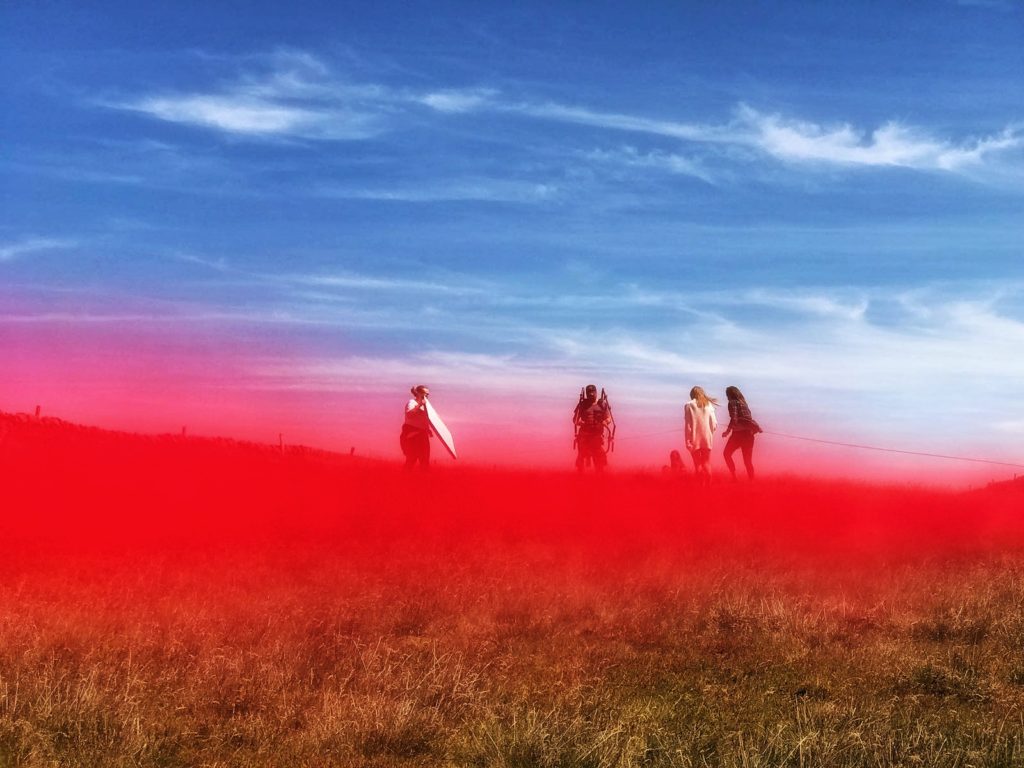 I had bought four balls of red wool which Flick and Amelia put in location but the balls quickly got tangled up and some time was spent freeing lines of it for use in the shots.
Kerry and Laila, took to listening to an England Match in the FA cup on their phones, I had to pick that day for my damned shoot….
TRY HAT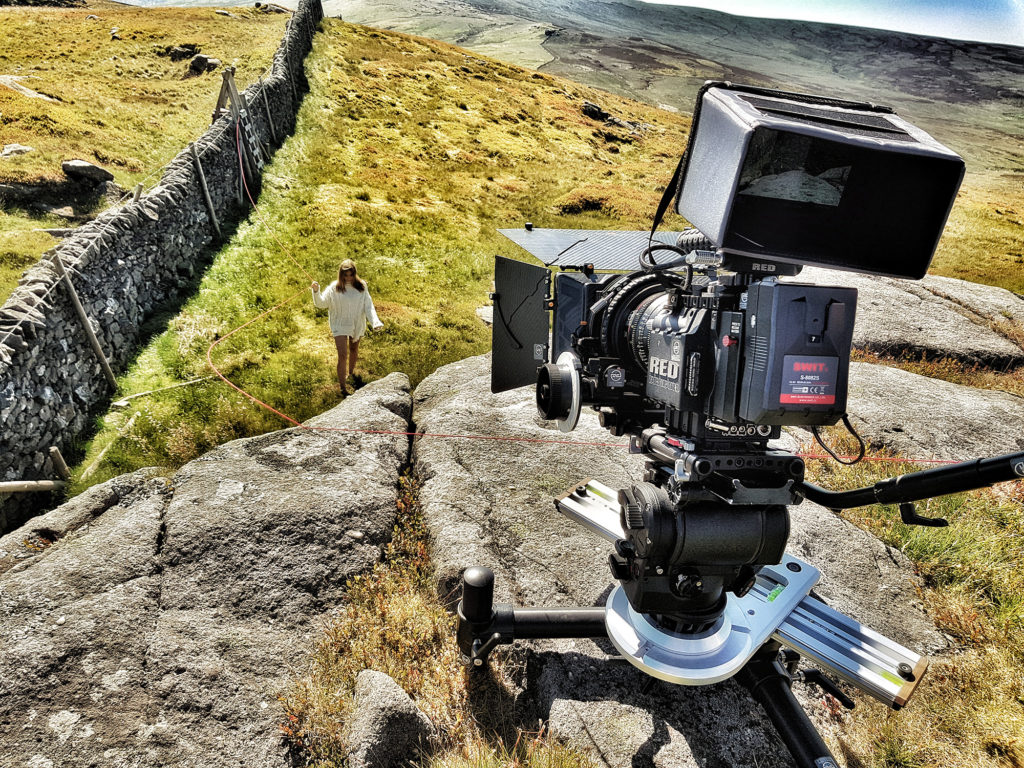 I had recently bought a Cardellini Tri Hat for the shoots, I love low angle shots but the O'Connor tripod was too high even on its lowest configuration, the Tri Hat I found through the www.reduser.net forums and found it an ideal system, it comes with a Moy fitting for the moy base Trost sliders I use and placed int the 50cm one on there let me get down on the ground and some fantastic shots.
Moving from the Movi to this system we began moving back towards the parked cars doing nice composed wide slider shots along the way.
LAST SHOT

The end shot took place in a small locked off part of the moor we had to hop over barbwired fencing for.
The plan was to have Elena run up the hill with the wool blowing directly under frame.
The wind was not helping and we tried fans to blow the wool but all it did was hang over the matte box and feebly waggled back and forth.
With time running down we ended the day and packed up with Elena and myself hitting the pub on the way back for some well earned drinks.
TRICKY POST

The grading process was very tricky due to the harsh shadows and sunshine but most of the shots worked. I find having the model with the sun behind them and their face in shade gives a fantastic even flat glow to their face making beauty shots easier the wind blowing her hair across her face looked fantastic.
The rest of the grade involved messing with shadows and highlights but giving the overall look of the vid a glow to it using heavy post diffusion which gave it a more dreamlike quality as well as mellowing out those shadows.
The last shot I wound up compositing out the red wool blowing into frame using parts of the video it wasn't in, making and looping those sections so buy the time I was done the red wool was no longer there.
The final video was intended to be 16:9 but because the sky was barren and bright I made it a 2:3.5 anamorphic aspect ratio which also helps give the piece a more cinematic feel.
All round a pretty successful fashion shoot!